Button and Avada User Login Form

Welcome fellow IPA enthusiast. If you are looking for an IPA with the latest hop profile, then you're in the right spot. As Riley's Rotating Hops Series, each batch of The Workshop IPA features the most popular hops on the market, making it your go-to IPA for the latest hop trends. To find your hop profile, you will need your packaging date located at the bottom of each can. Then click on your packaging date below.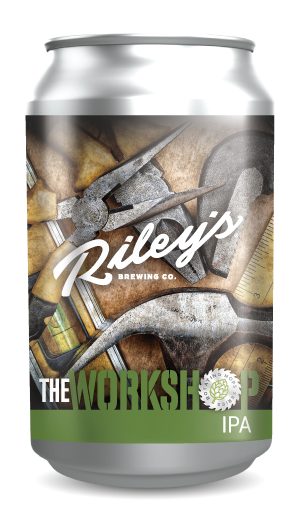 PACKAGE DATE
Our first Workshop offering is a Hybrid West Coast IPA. We took the best from both East Coast Hazy and West Coast Hoppy to bring you this tasty Crossover IPA. A little hazy and juicy with a solid hop backbone for the drinker who hasn't ventured much in either direction, it's the best of both worlds. Please leave us comments and we'll go back into The Workshop and build you a beer.
THE HOPS
Galaxy – Combine the aromas and flavors of peach and citrus with tropical flavors. Exceptionally bright fruit overtones.
Simcoe – Complex blend of passion fruit, apricot and berry some earthy accents.
Citra – Wide range of fruits orange, mango and grapefruit, perfectly balanced.
Bru-1 – NEW HOP Bright floral aromas and pleasing bitterness with a hint of pineapple.
| ALC/VOL: 6.6 | IBU: 65 | SRM: 5 |
| --- | --- | --- |